The Brand Morfosis was born in Rome in 2005 and the Beauty of the Roman city is an endless source of inspiration for the Brand. Rome is the place of the world where beautyis eternal and that best expresses this theme of Timeless that Morphosis tries to express in its creations. Morphosis comes from the Greek, Morfo meaning Form or Shape, interpreted in all its declinations, and the outfit is one of them.
This Morfosis collection is the fifth chapter of a series that revolves around the concept of "imperfections", a journey started three years ago, which ends up with the achievement of this collection aiming to be Timeless. When using this word, it does not mean that women's style is not reinterpreted in a modern and perfectly contemporary way. On the contrary, this collection aims at Beauty without time restrictions. Just like the legacy of timeless style, as interpreted by two of the greatest female stylists of all times : Madeleine Vionnet and Elsa schiaparelli, who are an endless source of creativity and inspiration for Alessandra cappiello.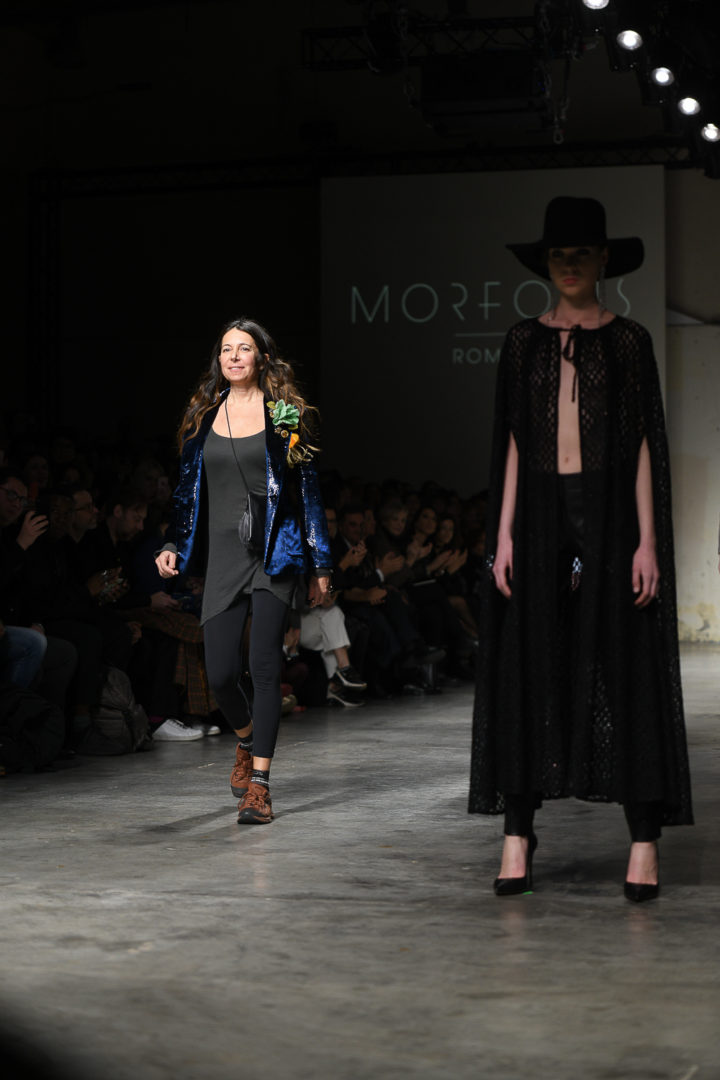 "This collection is like a blatant declaration of intent of Women not wanting to be perfect, but wanting to be unique. Women having a strong sense of their own value. I like to think that this collection accompanies women in a territory of freedom, in a society where, unfortunately, women are not yet considered equal to men."
Alessandra Cappiello, stilista di Morfosis
Our interview Backstage at Altaroma, the Roman Fashion Week, with Alessandra Cappiello and Antonella Schiavo, the creative head of Morphosis.
Alessandra belongs to a family of Artists, like her grandmother Anna Grauso Cappiello who was a great Roman artist and painter. Graduated in Fine Arts in Rome, "my grandmother was a true all-round Artist: sculptor, a famous painter, she worked with ceramics, made rags, was a woman who 60 years ago was advancing with her time and experimenting in a self-taught way in all fields, even aesthetics on his own body (the future Botox) or making collages and retouching with photos (the future Photoshop). She had a very curious mind and would have been thrilled living nowadays".
This collection is not really dedicated to one person, but refers to those glitter atmospheres, the details of lights, the brightness of the lurex inserts or the brilliant earrings that evoke the world that surrounded Bianca Jagger. A collection rich of details like the flowers that adorn the jackets. These are also a thought to his grandmother Anna Grauso who handcrafted flowers to embellish shoes, clothes and accessories.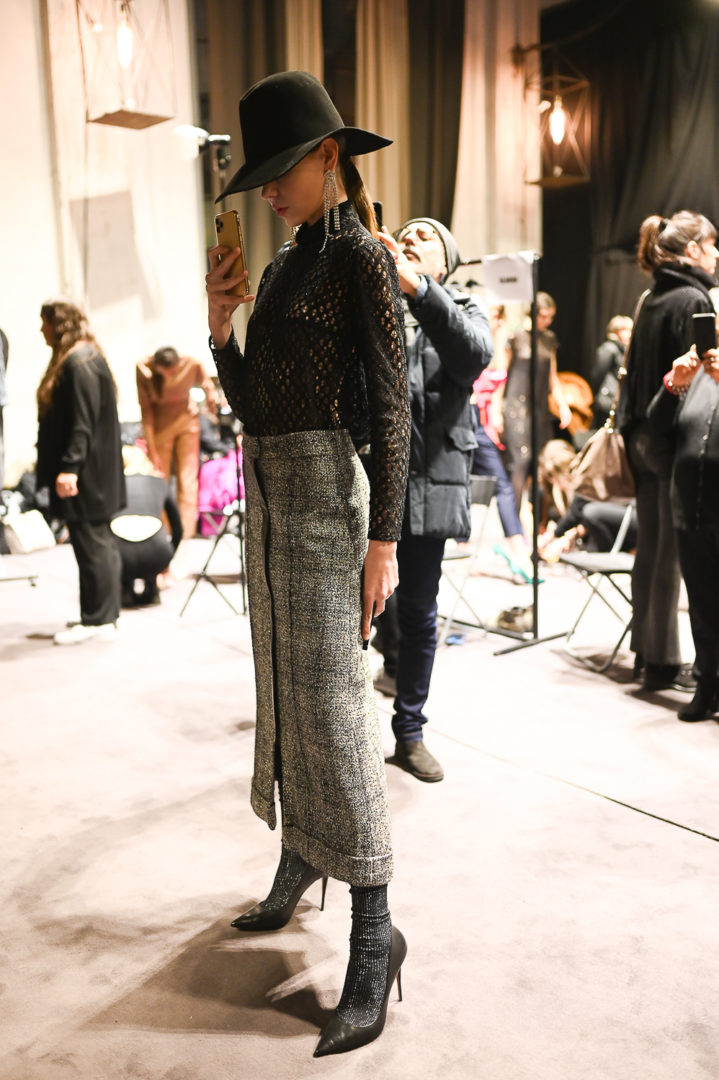 Alessandra's favourite color is Black. Touches of colors are sprayed into jackets or accessories to catch the attention and surprise, just as the rose shocking maxi bags.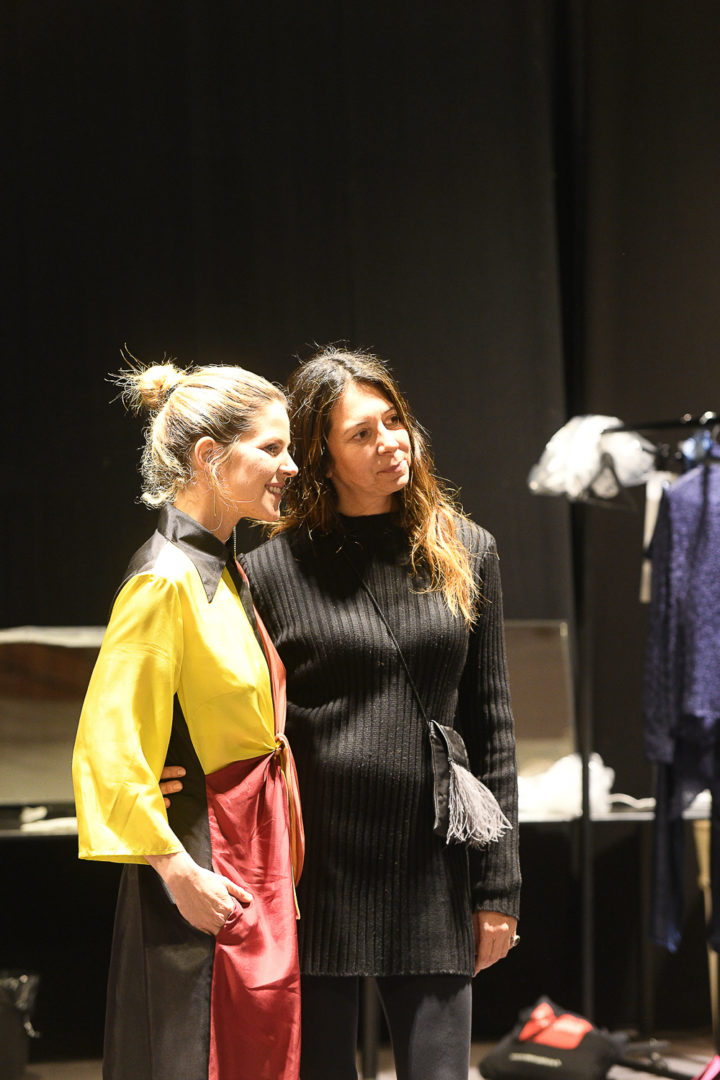 In the front row of the show, friends of the brand are present including the Italian actress Elisabetta pellini.
Graduated in Fine Arts in Rome, "my grandmother was a true all-round Artist: sculptor, a famous painter, she worked with ceramics, made rags, she was a woman who 60 years ago was advancing with her time …

Alessandra Cappiello
The Morphosis Woman is a protagonist and successful woman, aware of her choices. The creations of Alessandra Cappiello are an illustration of the true Made in Italy, synonym of handcraft and excellence in the use of raw materials, like authentic leather and silk, French lace, rare skins.
Lights sprayed over a jacket with flower embellishment details :
Credits : Brand Morfosis by Alessandra Cappiello, Media content : 2Goodmedia Copyright 2020 / Photography : Sefora Delli Rocioli
A complimentary gift for your loyalty!
As a token of appreciation for your loyalty, 2GoodMedia partners with WhatRocks to offer complimentary crypto for you to donate to your charities of choice from the list of 200+ organizations across the world.
Already a WhatRocks member?
Scan (or click from your mobile) the QR code below to collect your crypto rewards for good.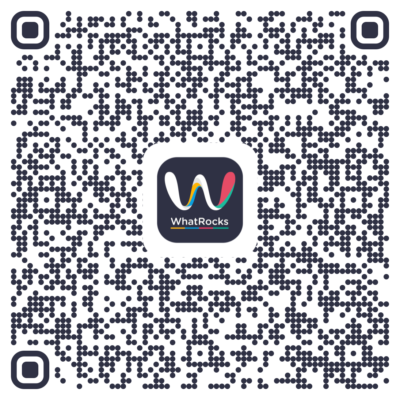 Not a WhatRocks member yet?
Click here to open your free WhatRocks account