Slow shopping of Artisanal products is at the core of Artisanal Cornucopia concept store, launched by Elif Sallorenzo, ex NY attorney and passionate of Artisanal. A concept store Founder, a talent scout for local and international artisans, a new starters consultant and an entrepreneur, Elif Sallorenzo is passionate about originality, and handmade products especially Made in Italy. Listen to her story on how she launched her concept store business in Italy on Artisanal and Slow shop named Artisanal Cornucopia, after her debuts doing Trunk shows in New York where she could launch Italian emerging labels like the famous Luxury shoe Brand Aquazzura.
January, 4th 2021 | Rome, Italy
By Delphine Souquet
Discover the soul at the heart of the concept of Artisanal Cornucopia and the tips of Elif Sallorenzo to scout for the world of Artisanal and based on slow shop.
The chance to hear about some of the most unique and special projects currently shown in her Concept Store Boutique of Via dell' Oca, nearby Piazza del Popolo, in the heart of the historic city of Rome.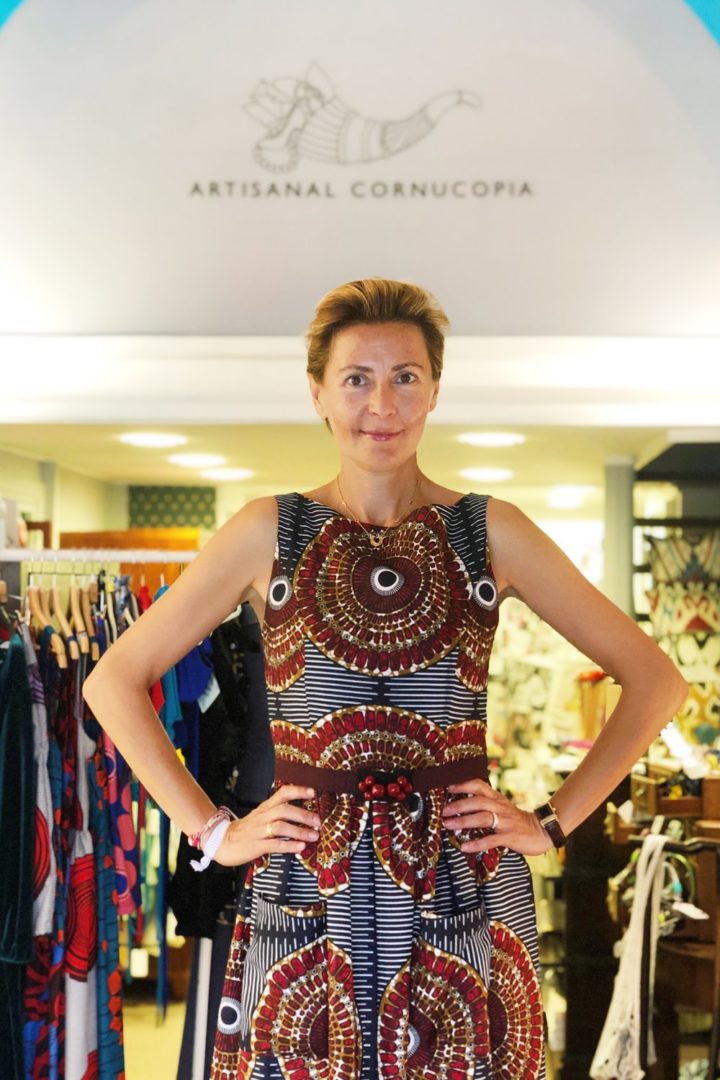 Who is Elif Sallorenzo?
My guest of the Podcast of 2Goodmedia today is Ms. Elif Sallorenzo a U.S./Italian/Turkish citizen. She is the Founder/CEO of Artisanal Cornucopia, a concept store that curates art, jewels, clothing, design and furniture from around the world.
The Soul is at the heart of the concept of Artisanal Cornucopia

Elif Sallorenzo
Ms. Sallorenzo is a New York attorney specialized in Intellectual Property, who studied law and management in London and New York, which helped a lot for launching her concept store business when she arrived in Italy. Elif is an Entrepreneur in this one Man show project of Artisanal Cornucopia. The concept store business is requiring to be multiple skilled in Merchandising, Scouting of Artisans, Inventory, E-commerce, Window dressing, etc
We are recording the podcast in her Rome Boutique just before Christmas enjoying the new arrivals of the collections of the Italian artisans curated by Elif.
The chance to discover her unique selection of handmade pieces, between jewelry, bags, clothes, perfumes, recognized in the most prestigious Travel books like Louis Vuitton Travel book guide.
Slow shop for Artisanal accessories
Our passion lies in serving our guests for a unique, distinctive, and enriching shopping experience

Elif Sallorenzo
Artisanal Cornucopia is an inspirational & intelligent curated marketplace for local and international Artisans, designers & creators. These artisans inspire us with their dedication, attention to detail, ingenuity and soul. These are the Modern Artisans. All Artisan products are made by hand in small batches and prepared with care.
What is Slow shop ?
Slow Shopping is inspired by the Slow movement, a philosophy that rethinks the values of our every-day actions and questions our basic needs, and proposes a new strategy for clothing consumption, making it more conscious and sustainable.
The inspiration for Artisanal
Elif's interest and fascination for Artisanal is directly inspired by her grandmother, an elegant and cultured woman and also an Ambassador's wife, who was making her own toilettes using Vogue patterns with a special collection of buttons, as Elif records in our conversation. Maybe also she inspired the timeless elegance of Artisanal Cornucopia's first clothing collection which was launched recently as Elif tells us in the Episode.
Artisanal Cornucopia slow shop empowers the Artisans
All products selected and presented at Artisanal Cornucopia are handcrafted by local and international artisans. Elif's experience on artisanal started in New York years ago while preparing trunk shows with emerging Italian and international designers for the US market.
Anna&Alex Jewelry at Artisanal Cornucopia

Valentina Asia Bags at Artisanal Cornucopia

Artisanal Cornucopia Collection
Today, some of the names of the Artisans curated by Elif Sallorenzo for Artisanal Cornucopia in Rome are the following :
Anna & Alex the Cameo Artisans
Anna & Alex are the true Cameo Artisans, boasting a wealth of experience in handmade jewelery and sculpture construction. It takes a real artisan to create each of these beautifully handcrafted shell cameos. Anna & Alex work with traditional shell-carving techniques, but add a modern touch to their artistry and designs.
Tataborello the handmade Fashion jewelry
Discover the world of Made In Italy Fashion jewelry with Tataborello, making one-of-a-kind pieces infused with sophistication and style. Stone heavy jewelry looks like you had for millions!
Giulia Barela, jewelry using the Ancient Etruscan techniques
Giulia Barela uses an ancient sculptural lost wax technique, which allows her to construct and shape the initial design and finish it by hand for a special touch that renders it unique.
Traditional materials are chosen such as gilt bronze, white and burnished silver, which are sometimes set with irregular shaped pearls, and semiprecious stones that are characterized by their particular nuances and inclusions.
Valentina Asia, wooden sculpture bags
The brand of handmade Bags Accessories launched by Valentina Russo from Puglia, a project proving the respect for the environment and slowness. An organic, circular shape, inspired by the irregularities of natural forms, made of water-dyed ash wood, with an ecological leather interior and an exterior set with granite and marble. A handcrafted object made in a limited edition of a few pieces.
De couture Bags, sophisticated Fashion handbags
Extraordinary handmade pieces are delivered from their Roman laboratory.
And more Italian artisans to discover in the Episode of the Podcast : Profilo, SoulCouture, etc.
Contacts
Now it's time to listen to the direct Voice of Elif Sallorenzo from Artisanal Cornucopia in the Podcast. I hope you will find our stories inspiring. Let us know in comments!!
You can contact Elif on her website https://www.artisanalcornucopia.com/ or directly on Instagram : @artisanalcornucopia, or Facebook
Language : ENGLISH. The interview is always in the original language of the interviewee to hear the direct voice of people that shape the Art and Fashion industry today.
If you liked this Podcast interview with Elif Sallorenzo from Artisanal Cornucopia, I recommend you to read our next Podcast Episode with Matteo Maiorano, shoes Designer, at the Rome Fashion Week.
I am Delphine Souquet, the Founder of 2Goodmedia, visit me on Instagram @DelphineSouquet or @2goodmedia to know more about all my projects and reportages during Fashion weeks with Creative entrepreneurs : Designers, Artists and Architects talking about their creative process and running a successful business.
2Goodmedia, https://2goodmedia.com the coolest click on the web. We produce cool contents (photos, videos and podcasts) for a pure entertainment experience. We talk about Fashion, Art, People, cool events in France and Italy. The mission of 2Goodmedia is to create a link between generations, cultures, countries, social classes without filters and with an inclusive vision of society. Transmit the values and passion for fashion or art. Passions that bring us together!
For comments, questions, or speaker ideas, please e-mail me at : Delphine@2goodmedia.com