Is Pitti Uomo in Florence open to the public and who can attend the trade shows and the international fair? The answer is in our talk recorded on my Instagram Live account @delphinesouquet with @thierrymouelelasprezzatura. Thierry Mouele is a French Brand Ambassador of sartorial Art, present each year at Pitti Uomo, the most important international fair of Men's clothing and accessories which happens twice a year in Florence.
January, 11th 2021 | Rome, Italy
By Delphine Souquet
After his first participation to Pitti Uomo event, Thierry Mouele became a Brand Ambassador and an influencer of the Sartorial Art and Menstyle. A change in his career he tells us on the podcast of 2Goodmedia with very good insights and tips on the organization of Pitti Uomo events and how to participate as a Brand Ambassador.
We are sharing in this podcast our crossed vision and experience of Pitti Uomo with Thierry Mouele were we both met during my reportage for 2Goodmedia in January 2020.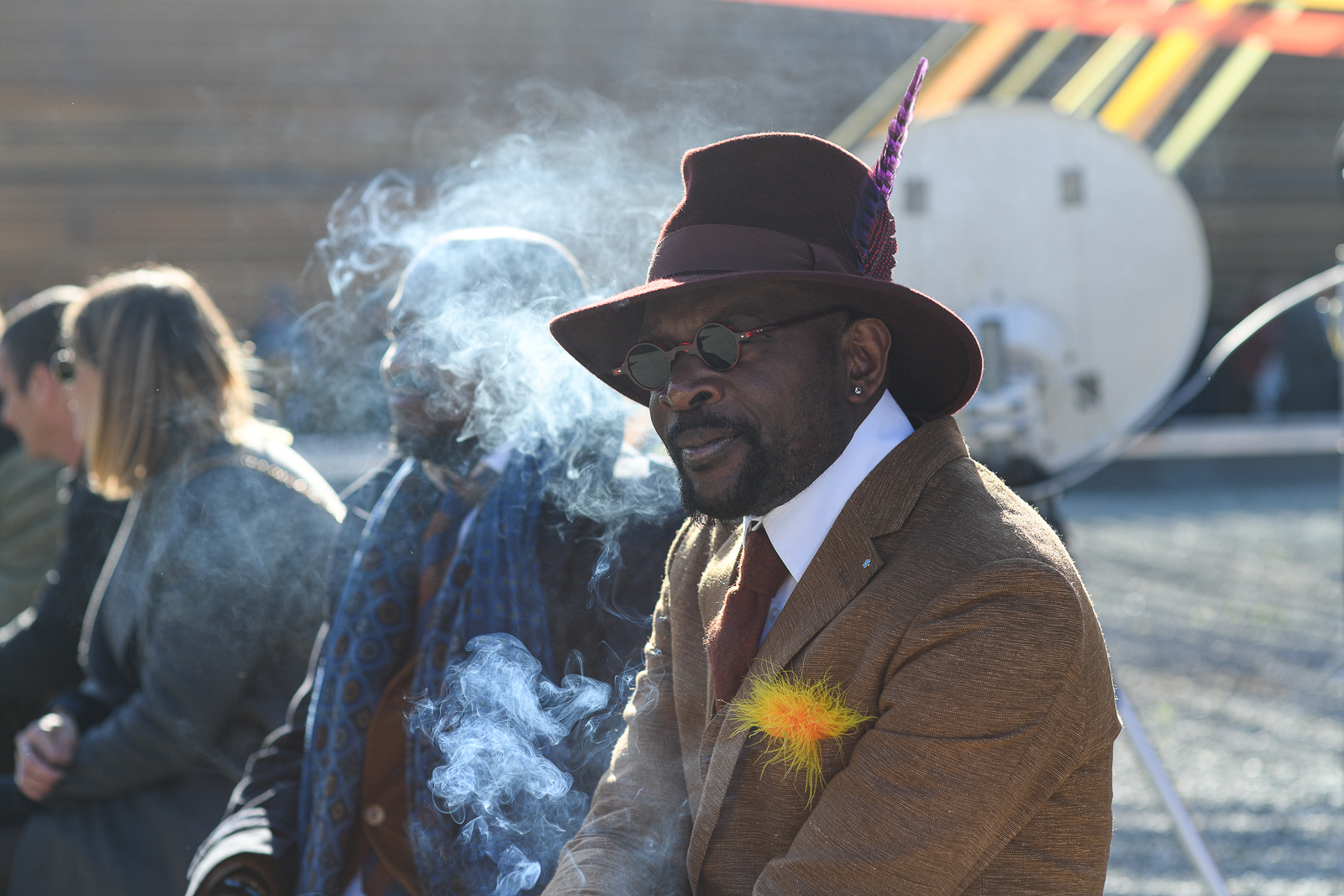 Who is Thierry Mouele?
Thierry Mouele is a Brand Ambassador of sartorial Art, present each year at Pitti Uomo, the most important international fair of Men's clothing and accessories which happens in Florence twice a year.
Pitti Uomo is the Place to be for a Gentleman in search of Sartorial Art

Thierry Mouele
What is Pitti Uomo?
Listening to the podcast, you will gain insights and tips on Pitti Uomo and sartorial Art:
✅ Why Pitti Uomo is an important event
Pitti Uomo is the largest international platform for men's clothing and accessories professionals. Buyers from all over the world come to discover the trends of Menstyle for the upcoming collections and meet exhibiting brands, more than 1200 in total last year in January 2020, including 45% from abroad.
✅ How to dress during 5 days
Thierry Mouele

Thierry Mouele

Niccolò Cesari, Rachele Viola

Alex Sanchez de Mora
✅ What is the business side of Pitti
The influencers of Menstyle and Brand ambassadors are coming from all over the world and more rarely from Italy. Many influencers of Pitti Uomo say they have become faithful to the fair after a first participation because visibility is so important there. They come from all countries, alone or in groups : Spain, Italy, Portugal, France, Africa, Latin America, the Anglo-Saxon countries, etc. They get into connection during Pitti Uomo and meet every six months in Florence. For them it is also a time of networking and meetings with journalists and photographers. Even the opportunity to conclude opportunities for new collaborations with brands. 
✅ What is the Sprezzatura
Sprezzatura is often assimilated with Masculine elegance. But Thierry Mouele explains there is a difference. The Sprezzatura is an Italian word which derives from a term defined in the Renaissance that simply means doing something extremely well without showing effort. Sprezzatura is the Art of Sartorial dressing.
✅ Why every Pitti is a new experience
The trade shows, the parties, the fashion shows, the exhibitions : every edition of Pitti Uomo is different. After a first participation, you revise your priorities and your agenda to discover new aspects of the international fair.
Who can attend Pitti Uomo in Florence?
✅ Who are the participants
The Gentlemen of style, also named the Pitti People, are immediately recognizable by their very stylish sartorial look. Two or three-piece suits, ties, hats and many accessories. When you arrive in Florence during Pitti Uomo, the international men's fair, they are the first to be noticed by the visitor. In the collective imagination, Pitti Uomo is also associated with the figure of the dandy often playing the card of eccentricity. Because the game for the influencers present in Pitti Uomo is also to be noticed, photographed, posted on social media from all over the world. They represent the soul of Pitti Uomo and also all its folklore so much appreciated by the "modaioli" and the broad public.
There are many other registered participants in addition to brands, tailors, buyers and influencers : journalists, bloggers and magazines, the international press, printed or digital, photographs, Public Relation companies, etc. The deals between buyers and brands are concluded inside the trade shows while the external space outside the exposition areas is more related to public relations and image.
✅ How to participate
Bloggers, journalists, photographs, influencers can request accreditation on Pitti Uomo's website. Influencers are also often organized into groups based on members cooptation to join Pitti Uomo.
Now it's time to listen the direct Voice of Thierry Mouele Brand Ambassador of Sartorial Art on the Podcast. I hope you will find our stories and experiences on Pitti Uomo inspiring. Let us know in comments!! You can see our Instagram live on my profile Instagram @DelphineSouquet
If you are interested by this podcast, don't miss our interview with Raul Vidal, Spanish Influencer at Pitti Uomo.
Contacts
You can Thierry Mouele on his instagram @thierrymouelelasprezzatura
I am Delphine Souquet, the Founder of 2Goodmedia, visit me on https://2goodmedia.com and Instagram @2goodmediato know more about all my projects and reportages during Fashion and Art events, talking with Creative entrepreneurs : Designers, Artists and Architects talking about their creative process and running a successful business.
Language of the episode with Thierry Mouele : French. The interview is always in the original language of the interviewee to hear the direct voice of people that shape the Art and Fashion industry today.
2Goodmedia, https://2goodmedia.com the coolest click on the web. We produce cool contents (photos, videos and podcasts) for a pure entertainment experience. We talk about Fashion, Art, People, cool events in France and Italy. The mission of 2Goodmedia is to create a link between generations, cultures, countries, social classes without filters and with an inclusive vision of society. Transmit the values and passion for fashion or art. Passions that bring us together!
For comments, questions, or speaker ideas, please e-mail me at : Delphine@2goodmedia.com