An atypical career as a consultant turned new media entrepreneur
Delphine was a corporate strategy consultant for the Big Four for 15 years and became a producer of multilingual brand podcasts after a 10-year expatriation to Italy. Delphine founded 2goodmedia.com in 2020, an independent digital media, podcast and newsletter in 4 languages (French, English, Italian and Chinese) in the creative industries.
The Loïc Prigent of the podcast
We talk about serious things with true kindness
She is known as the Loïc Prigent of the podcast because her speciality is to cover in multilingual podcasts the backstage of the big creative industries shows in France and abroad: fashion weeks, pitti uomo, French Touch festival. She talks to brand CEOs about serious matters – industry transformation, brand strategy, eco-responsibility, Employee Social Governance, style and creativity, etc. – without ever taking ourselves too seriously and with a lot of kindness, that's the mantra of 2goodmedia.
The origin of the name 2Goodmedia podcast
2good comes from the American slang
2good is a term used by millennials that comes from the American slang "2good jeans" for clothing. Accessibility and transmission are the founding values: building bridges between cultures, countries, generations, genders, social classes with an inclusive and sustainable vision for society and our planet.
Her background
She studied at a leading business school in Marseilles, KEDGE business school and worked in strategy and management consulting in Paris, with major international firms such as Accenture and Capgemini. It was a long and painful experience, up to the position of director, but very formative in developing her capacity to adapt and enter into relationships at all levels of the company, from employee to CEO.
She left everything to become a podcaster in Italy
After 15 years in corporate strategy consulting, she decided to change everything. Can we call this a career shift or a sign of destiny? She left with her family for a long expatriation to Italy before even knowing the language. The big leap doesn't scare her, "it's the best way to learn who you are. What's more, it's a perfectly uninhibiting experience because you don't know anyone and you have nothing to lose!
She took the opportunity to change sectors, Art and Fashion, because she is passionate about the creative industries, and these are two of the most developed sectors in Italy.
Starting from scratch
With sometimes challenging emotions and the impression of starting from scratch: a new language, a new country, a new sector, and a business model to invent around the podcast, even less developed in Italy than in France. What matters is the vision, giving meaning to her work and taking pleasure in what she does.
A pure trainee of organisational consulting, she realizes that she is 100% adaptable and loves above all to meet new people, despite the language barrier and a natural shyness. In the end she made a 360° career change by working for a Parisian media agency and a content creation studio, which she represented and developed in Italy between Rome, Florence and Milan.
In 2020 she launched 2goodmedia her own podcast show of talks/interviews/reports in 3 languages to talk about serious things without taking ourselves too seriously. Her idea is to experiment from A to Z, to go on the field to meet top executives to interview them live on the podcast in a totally timely and improvised way. She soon realized that she was the only one doing this in Italy, and decided to create a website that allowed her to be officially accredited as a media podcast at the biggest fashion trade shows in Italy, alongside international journalists from Vogue and the New York Times!
The return to Paris as a media entrepreneur
After closing her Italian Partita Iva, which she opened just before Covid, she returned to France to develop the media and open her own podcast studio. She immediately applied to the Creatis Horizons programme that she had identified when she was an expatriate in Italy.
Today, 2Goodmedia's podcast studio, which targets international brands, is located in the heart of the fashion and luxury district of Paris, with the differentiation of a multilingual podcast, the hybridization of business and creativity, and the signature French Touch. The short-term objective is to create bridges with China. To do this, she has been learning Chinese for two years in order to launch the first Sino-French podcast, which will be released at the Pitti Uomo international trade fair to celebrate the Chinese New Year in style.
You can contact me for any questions on Instagram @DelphineSouquet or on Delphine@2goodmedia.com
If you want to know more about the pitti uomo it's here!
A complimentary gift for your loyalty!
As a token of appreciation for your loyalty, 2GoodMedia partners with WhatRocks to offer complimentary crypto for you to donate to your charities of choice from the list of 200+ organizations across the world.
Already a WhatRocks member?
Scan (or click from your mobile) the QR code below to collect your crypto rewards for good.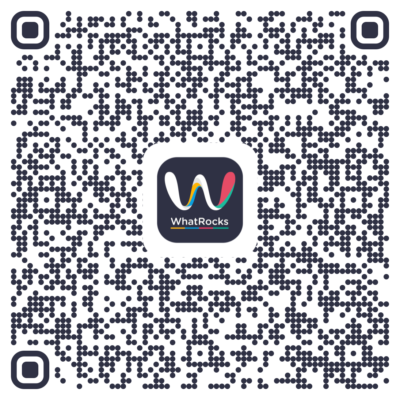 Not a WhatRocks member yet?
Click here to open your free WhatRocks account