How to Launch a DTC (Direct To Consumer) Custom Clothing brand at only 17 and crush it on TikTok? Jonas King aged 17 from Brooklyn, is living proof that it is possible to launch a DTC (Direct To Consumer) brand. Even before graduating from a Fashion school thanks to Internet, Digital and Social Media. The American Millennial belongs to a large worldwide community of self-made entrepreneurs. They are all inspired by the Modern-day American Media & Communications CEO Gary Vee. The young and smart business man shares on the podcast a modern and disruptive vision of DTC business, marketing and community management on digital platforms. The tips shared in this conversation are very valuable both for traditional brands and aspiring Millennial Entrepreneurs. How to grow a DTC business and to crush it on social media?
March, 18th 2021 | Paris
By Delphine Souquet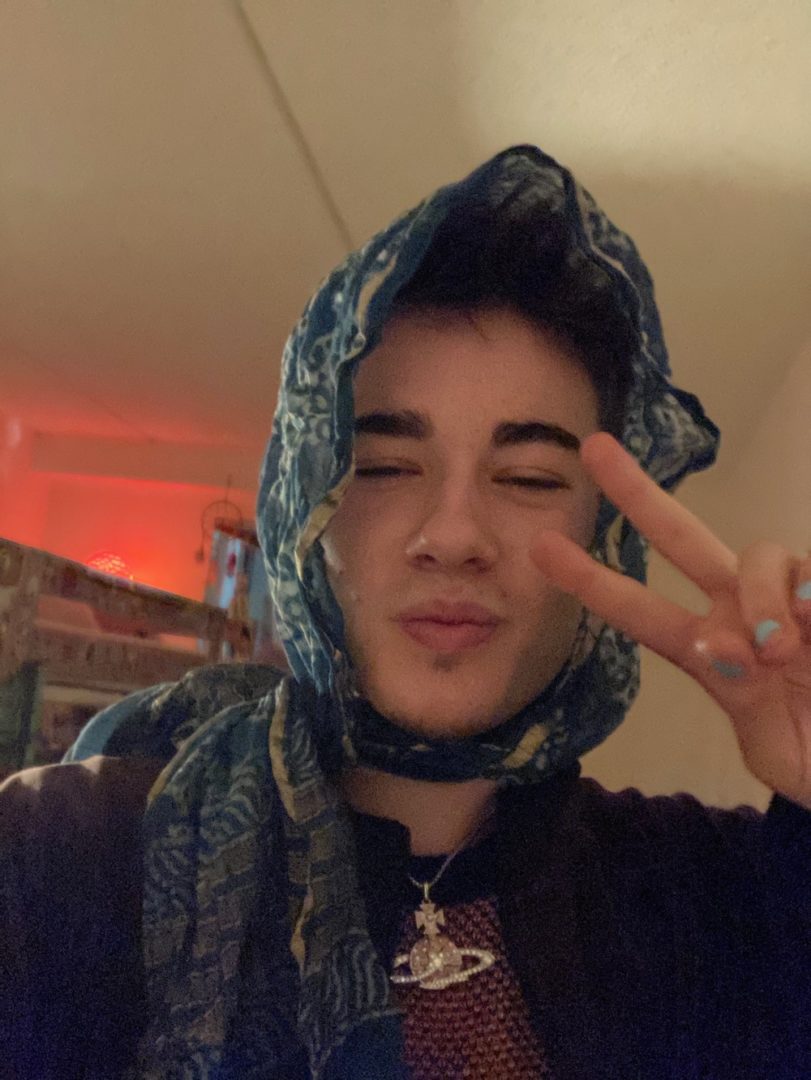 Who is Jonas King?
Jonas King is a young and smart Millennial Entrepreneur based in Brooklyn, NYC, Founder of 2FIFTY Clothing a Custom Fashion business
Jump in on every single opportunity even if you don't think anything's going to come out of it

Jonas King, Founder of 2FIFTY
In this episode we talk about DTC (Direct To Consumer) Business and how to grow it through digital platforms and social media, without spending on advertising.
The philosophy of Jonas is clear : jump in on every opportunity to make connections, make it happen doing as many projects as possible without overthinking. Action is the key. Being self aware of who you are and what is the value you're bringing is also essential.
The story behind 2FIFTY DTC Custom Clothing
The Kidsuper runway show in 2019
I was 16 at the time in 10th grade and decided to just go after school to see what was going on

Jonas King
Kid super did a runway show during fashion week in fall 2019. The idea was that everybody from like around the world kind of donate old clothes. The manager of KidSuper posted on his instagram asking anybody that wants to come help sew to show up. He gave the address in the instagram post.
Jonas was 16 at the time in 10th grade and decided to just go after school to see what was going on. Loving fashion he was attracted by the opportunity to see what Fashion week is. The idea behind the show was to use a hundred percent recycled clothing and any kind of old things. He started by sorting the clothes from the big piles and see what could be used. Eventually KidSuper manager asked him if he could sew. So he started following everybody around and kind of helping out with what he could. At the end, he didn't have his own pieces in the show. But it was cool that he worked on the most pieces of everybody. And he was super lucky to even discover that universe of Fashion shows and custom clothing.
Since they all volunteered and didn't get paid, the managers of Kid Super let them keep the sewing machines.
Then, Jonas started his own business the next spring in 2020.
Why the name 2FIFTY for DTC Custom Clothing?
250 is the number that is on Jonas' front door. He chose this name because he wanted to emphasize that everything's made in his room by him. Custom clothing is very hands-on from him to customers. There are clearly no middleman at all in the process.
DTC Custom Clothing and the Hype
Jonas explains he gets really bored doing the same thing over and over again. So if he is to release jeans he would maybe only release like six with the same design. That's why he loves custom clothing because everything is different. He gets to explore new ideas with every project that he does. So that Custom Clothing's choice is partly what he loves doing and partly also strategical. Custom helps create the hype idea around capsule collection of a small number of pieces.
DTC Custom Clothing business
To be honest i'm not too worried about getting into the industry in general, like the film industry and fashion industry

Jonas King
For Jonas, it starts to become less relevant. Because creatives the people that these industries need to function now have the ability to go direct to consumer. For him, the only thing that the industry was really doing was providing money to get these projects done. "Now with the internet we don't need as much money for advertising and stuff you can do all that for free if you make good content and provide value" he says.
i don't i don't think that's very important i make things that i think are beautiful and that i love and whoever likes them that's great you know
As Jonas explains, he does not have a certain demographic that he is advertising to.
Of course the most of the people that like his Custom clothing are are in their 20s. They are into streetwear fashion, which is mainly what he makes. But recently he just did a custom for a friend and her mom also. A pair of pants for her mom with a bunch of rips and skulls because that's what she likes.
So as he says he's kind of keeping everything open in that aspect. Paying too much attention to the traditional marketing planning was more relevant maybe 25 years ago. Not anymore with the internet era.
The 2FIFTY Family : how to provide value to the customer
I am working really hard to try and build a community that would be loyal wherever because instagram might be dead in a week you know

Jonas King
Jonas explains his vision of exclusivity for the Brand. He is working really hard to try and build a community that would be loyal on whatever platform. The idea is also to build a personal brand.He calls them the 2FIFTY fans like in a family. He is thinking about the thank you cards or make a poster. "The idea is to say welcome to the 2FIFTY fam when they buy something and enter this club". He also has a group chat on instagram with a bunch of people from tiktok. He sends sewing ideas, talk about things, so just like as much back and forth and communication as possible. He often asks people to interact with his stories on instagram and he replies and goes through all the comments. The idea is to engage as much as possible to build this community and create this little club that people want to be a part of.
Free Education on the Internet like Harvard
The thing is when my parents were in college youtube didn't exist and the internet didn't exist like that

Jonas King
As Jonas says : Now everything that you want to know is on the internet. For example Harvard publishes their lectures on youtube so you can attend Harvard classes for free if you want to. You're not going to make all the connections and be able to ask your professors questions. But all the information is there even if you don't get the degree.
For Jonas, that kind of proves to him that college isn't worth all that people say it is. Especially in this new era of internet and Education rethinking. It's the value of college and the return on investment which is going down as he perceives.
What is the value provided in the Podcast around DTC Custom Clothing?
The tips shared in this episode can be very useful and so inspiring
✅ For ecommerce and traditional Brands on how to crush it on digital platforms
✅ For Millennial entrepreneurs willing to launch a Fashion Brand and grow a community of customers online
The views of Gary Vee on Social Media management are just as applicable to an established brand as to a young millennial entrepreneur. Internet is a game changer for the Retail and Fashion Industry as a whole. Digital Marketing and Multi-channel distribution are becoming a standard for all Fashion Brands with no exceptions. Understanding the concepts of social media and community management is key to grow a global and international business.
This episode is highly trans-generational
I am very excited to share this episode with Jonas on 2Goodmedia Podcast. It illustrates how new technologies is a huge opportunity for the young generation for any type of business :
Develop a business online and sell direct to customer
Self-learn the requested skills online on Free platforms like YouTube or TikTok
Grow a community online providing value (tutorials, personalized services, customer gifts)
Create client connections (FaceTime calls for custom design, etc)
Publish content (video, photo) on all platforms to a community of followers
The advice given by Jonas to aspiring Millennial entrepreneurs is just to jump in on any single opportunity to make connections with brands, artists, store managers, etc.
The tips discussed in the podcast include
The Future of Education, namely how Fashion schools and Traditional education is becoming less relevant
The new vision of DTC Marketing through global community management
Selling on Social Media
Custom Fashion Business
Community Management through Social Media
Getting the Hype for developing sales on small quantities
Fashion Trends in New York (second hand, vintage, etc)
If you want to know more about DTC Custom Clothing
Listen to the podcast (Link above in the Article). You can find us on Apple Podcast, Spotify, Soundcloud or any of your favorite podcasting platform.
Visit me on https://2goodmedia.com to find the transcript and Editorial of the Episode, see the portray of my guest and the pictures of the Custom Fashion collection
If you want to collaborate with Jonas King
Now, let's start listening to our conversation with Jonas King on 2goodmedia. You can contact Jonas on his Instagram @2fiftyclothing or on his website 2FIFTY.
Language of the episode : English. The interview is always in the original language of the interviewee. Hence you can hear the direct voice of people that shape the Art and Fashion industry today.
2Goodmedia is available on the web https://2goodmedia.com
We are passionate and produce cool contents (photos, videos and podcasts) for a pure entertainment experience. We talk about Fashion, Art, cool events. If you like this format of the Podcast associated to our website– including Audio, Editorials and Visuals – just let me know in comments on ITunes. And don't forget to give 5 stars review to support the show!
For comments, questions, or speaker ideas, please e-mail: Delphine@2goodmedia.com and DM on Instagram @2goodmedia