How to use a community hub of athletes to stand out in Outdoor Footwear Design? The unique experience and knowledge of a creative agency and workshop based in the French Alps working with Fashion and Outdoor brands. All Triangles can design, test and validate Footwear developments projects for Outdoor and Fashion brands within 2 weeks whereas the industry takes 6 to 8 weeks before a performance shoe can be produced. The All triangles agency therefore stands out for the innovation and practicality of its solutions, its speed and agility in validating them. Listen to our conversation podcast to know everything about the performance Footwear industry!
March, 1st 2021 | Rome and Annecy
By Delphine Souquet
My guests on the 2goodmedia podcast this week are Basile Lapray and Julien Traverse, the Founder of All Triangles. All Triangles is a Brand Creative Agency and a Community Hub located in the heart of the Annecy "Outdoor Sports Valley" working in B2B with Brands from the Outdoor and Fashion industries.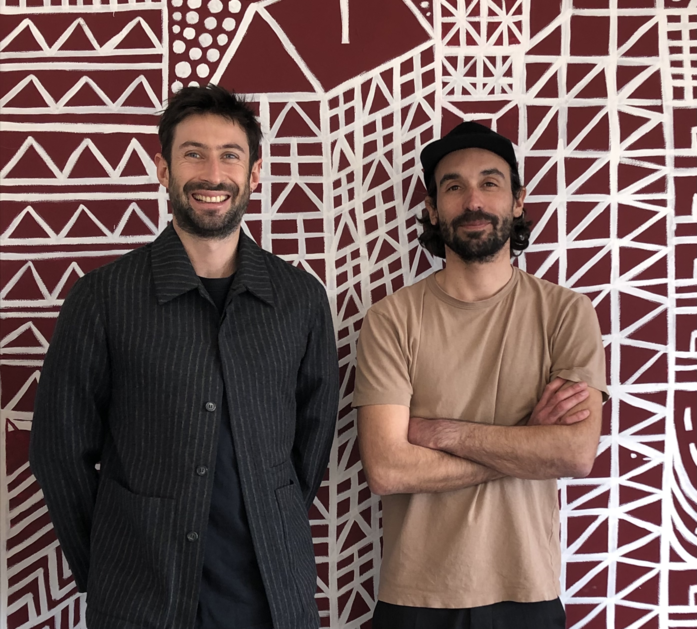 Who are Julien Traverse and Basile Lapray?
Julien Traverse is the Founder of All Triangles  a Brand Creative Agency and a Community Hub specialized in Outdoor & Footwear. Basile Lapray is in charge of fashion and lifestyle development.
All Triangles is a multi-expertise team working in B2B and guiding their clients through the entire creation process of a Footwear. Designers, marketeers, engineers, pattern-makers, prototypists, human relation experts and data scientists collaborate to find ad-hoc solutions based on clients and customer needs. Within a state of the art footwear workshop, they can build to test & validate ideas quickly.
All Triangles specializes in Outdoor Footwear Design
Julien Traverse created All Triangles in 2019 with the wish to offer French and international brands creative and easily manufacturable solutions in the field of outdoor performance footwear. All Triangles recently joined the Paris Alpine Studio Collective to revolutionize and de-cluster the worlds of Fashion and Outdoor.
All Triangles is based in Annecy and organized as follows into 3 main activities:
A design department, research, shoe design, prototyping.
A concept creation and trend watch department
Athletes' Service Footwear Design
These activities, which cover all stages of shoe manufacturing, allow All Triangles to be involved at any stage of the creative process with Fashion and Outdoor brands, without the need to call on other intermediaries. All Triangles is therefore able to produce a model that has been tested and validated in a sports community in 2 weeks, whereas the industry takes 6 to 8 weeks before a performance shoe can be produced.
All Triangles Community Hub in Annecy

All Triangles workshop

Footwear Design & Prototyping

All Triangles Community Hub in Annecy
The complementary nature of Paris Alpine Studio's creative agencies
Paris Alpine Studio is a collective of creative agencies with complementary know-how to offer a relevant and complete solution to Fashion and Outdoor brands:
– Ludovic Alban & Émilie Fontaine bring their expertise in luxury and menswear, the Parisian fashion gaze, and their contemporary vision
– Jonathan & Fletcher represented by Grégory and Jonathan Pessey bring outdoor and performance expertise, injecting practicality and innovation into the garment.
– All Triangles, represented by Julien Traverse and Basile Lapray, bring their outdoor and footwear expertise
Paris Alpine Studio is therefore expertise that complements each other to create personalized solutions and enable brands to stretch their territories of expression in the fashion and outdoor markets designing inspiring products with a focus on performance and utility.
A team of outdoor and footwear passionate
All Triangles is first and foremost a team of outdoor sports enthusiasts, but also Footwear passionate. It is the combination of these passions that enables them to perfectly identify a brand's needs and translate them into high-performance products that are consistent with its identity and values.
Its community hub is a strong differentiating feature of the All Triangles agency. In addition to the offices and workshop, there is also a sports and athlete community hub, changing rooms and a climbing wall to welcome the outdoor sports communities of the Alps!
The strength of All Triangles lies in its proximity to the office, the workshop and the community hub: to be as close as possible to the people who practice the sport in order to translate their vision of the sport into products, test them and then adapt them perfectly to their use without having to go through other intermediaries!
The All Triangles team has a strong bond with outdoor athletes, as they have a dedicated service to create tailor-made products for them. Thus, the workshop can adapt them to the needs of the athletes to allow them to practice their sport in the best conditions.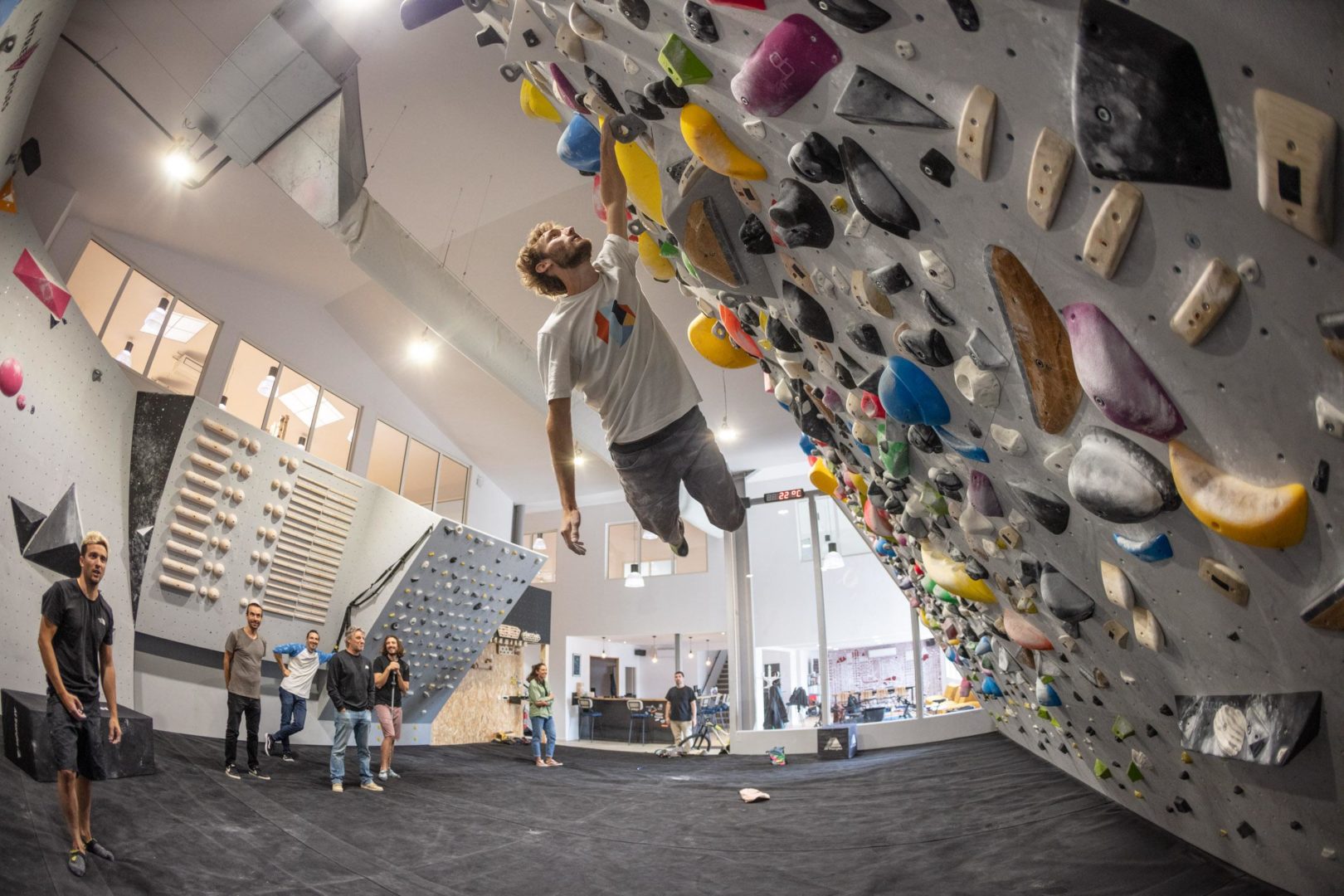 The strategic location of Annecy
Based in the heart of the French Alps, the city of Annecy is a strategic place in the world of outdoor and footwear: only 1 hour from Chamonix, close to the Drome Shoe Valley but also close to the manufacturing industry in Italy.
It is also the headquarters of the Outdoor Sports Valley (OSV), a committed network bringing together all the players in the European outdoor industry to facilitate the development of brands at national and international level.
It is therefore a city where European know-how in the footwear and outdoor industry can be found, thus allowing it to be at the pulse of the action and gain credibility.
Outdoor Footwear and Eco-Design
The eco-responsible approach is an essential challenge in the Footwear industry: it is essential to have a "green" approach in the design of a product and it has even become the norm.
It is a process of continuous improvement at All Triangles, for whom the green approach must be initiated by the creative agency working with brands before being translated into products.
The main stakes in the development of a footwear are at the stages of assembling and disassembling the materials in order to be able to reprocess them afterwards.
To achieve this, it is necessary to go back up the value chain and first think of a useful, innovative and above all sustainable product to push back the product's end of life as far as possible, because it is mainly the production and industrialisation process that impacts the environment.
In any case, for All Triangles, sustainability and ecodesign of a product must be at the service of performance!
The transition from "sport" to "lifestyle" footwear
Today, the lifestyle/sport segmentation no longer exists in the eyes of consumers: inspiration can come from extreme performance, a fashion show or a streetwear collaboration.
Thus, if a brand performs on the market, it is first and foremost because it is authentic and relevant and its product has a reason to exist. Moreover, the most famous sneakers on the current market do not necessarily come from the lifestyle world but rather from performance, i.e. they were designed for a particular use, such as the Van's designed in the 1960s for skateboarders in California.
The consumer is therefore looking for authenticity and a special positioning, even if it means appropriating and diverting the use of the product.
For All Triangles, the vision of the product must above all be "brand centric" and no longer "consumer centric": it must first start from the DNA and values of the brand to bring it onto the playing field it targets and thus be legitimate.
This is where the Paris Alpine Studio collective finds its strength : the expertise of Ludovic Alban or Céline Gendry-Morawski to redefine a brand's "brand centric" strategy. You can listen to our podcast with Ludovic Alban here and discover the Luxury and Parisian Fashion gaze of the collective. And our conversation podcast with Jonathan & Fletcher bringing the Outdoor Performance Apparel expertise to Paris Alpine Studio is available to this link.
It's now time on the podcast of 2goodmedia to listen to the voices of Julien Traverse and Basile Lapray from All Triangles, member of the Paris Alpine Studio ! I hope you'll find their story and knowledge of the Footwear industry inspiring, let me know in comments on the podcasting platforms Apple podcast or Spotify!
Contacts
If you liked this podcast, don't hesitate to leave a 5 stars review on iTunes to encourage this new @2goodmedia format, imagined for B2B agencies wishing to share their expertise and knowledge as the members of @parisalpine studio for fashion, footwear and outdoor.
And Don't miss our 2 previous episodes with the Paris Alpine Studio collective:
– with Jonathan & Fletcher the Performance Apparel specialist
– with Ludovic Alban, Luxury and Fashion Artistic Designer and Director
You can contact Julien Traverse and Basile Lapray via Julien's email address : julien@alltriangles.com, directly via Linkedin : Julien Traverse or Basile Lapray, but don't hesitate to come and meet them in their agency in Annecy. Visit their Website at All Triangles and find all the experts of Paris Alpine Studio on this blog link.
I am Delphine Souquet, the Founder of 2Goodmedia, visit me on Instagram @2goodmedia to know more about all my projects and reportages with Creatives and entrepreneurs : Designers, Agencies, Artists talking about their creative process and running a successful business. Language of this Episode : FRENCH. The interview is always in the original language of the interviewee to hear the direct voice of people that shape the Art and Fashion industry today. The transcript is translated in 3 languages on our website @2goodmedia.com.
2Goodmedia, the coolest click on the web. We produce cool contents (photos, videos and podcasts) for a pure entertainment experience. We talk about Fashion, Art, People, Fashion and Art events in France and Italy. The mission of 2Goodmedia is to create a link between generations, cultures, countries, social classes without filters and with an inclusive vision of society. Transmit the values and passion for fashion or art. Passions that bring us together!
For comments, questions, or speaker ideas, please e-mail me at : Delphine@2goodmedia.com
Subscribe to 2goodmedia on your favourite podcast platform and don't miss the next episode with Émilie Fontaine the fashion expert from Paris Phoenix Studio!
Credits
All pictures are the property of All Triangles, Courtesy of All Triangles ; Podcast and Article by 2goodmedia.