What is called graffiti art and are there ways to get into the art gallery? Loic Le Floch, graffiti Artist known as FENX helps us to understand what the world of graffiti is and tells us how he became a self-taught visual artist. Contrary to what we think, FENX is rather an exceptional example in his evolution as a gallery artist. There are two different motivations between the graffiti artist and the gallery artist. To be a graffiti artist is an act of ego-trip, even if we speak today about Street Art. Graffiti must be immediately recognizable and read on a maximum of supports. Being a graffiti artist is also a human adventure because the graffiti artist paints in team. How does one become a member of a team and what does belonging to this kind of group bring? If we try to explain today what diversity is as a social value, just listen to our discussion with FENX who talks about it in a simple way because he lived it first-hand when he was young in his childhood neighborhood of La Defense near Paris. A true and exciting discussion as I like them on the podcast to transmit to the new generations who listen to us direct testimonies with the personalities who make the world of Art and Fashion today.
June, 18th 2021 | Paris
By Delphine Souquet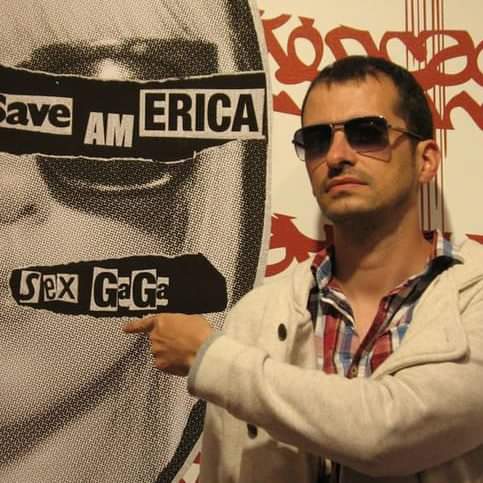 Who is Loic Le Floch aka FENX?
Loic Le Floch is a visual artist, first known as FENX, his pseudo when he began with graffiti, who grew up in the district of La Défense in Paris.
Loic Le Floch, the artist and a child of La Defense, who is also known as FENX the Graffiti artist
I used to do some graffiti …

Loic Le Floch
Loic expresses himself in this way as he explains it to us out of respect for the people who have dedicated their whole life to graffiti, it is a part of his life but not his whole life. "I was interested in other things too, I was a bit of a multi-tasker, especially skateboarding and music". The Parisian artist devoted time to graffiti and became very interested in it by realizing important projects around Graffiti in France in the 2000s as he explains in the following interview.
"I started with a Punk brother and sister who put a marker in my hand during the vacations. "When I started back then there were some great graffiti just down the street from my house. Kids were impressed and wanted to imitate them. That's how it started. Sometimes in the evening I would go out to see their work, it was the late 80's to early 90's". Then FENX discovered a book called Subway Art, which impressed him. That marked the beginning of his graffiti period.
The beginnings in Graffiti Art and the choice of the name FENX
The name FENX came out, it needed a certain resonance…

Loic Le Floch aka FENX
"I painted with graffiti artists who had 3 or 4 letters while I had 5 letters at the base. One of the goals of graffiti is to get your name seen. His first name was Coker, but it was a bit long. "It took too much time to paint or to make it small". But the objective of the graffiti artist is that we see his name. After a time of reflection "the name of FENX came out, it needed a certain resonance, but few people understand that it must be pronounced Phoenix."
The visual artist Loic Le Floch and the graffiti artist FENX
It was no longer the alias FENX that expressed itself, it was no longer paint outside, it was paint inside …
After a while, "I felt like expressing myself differently", I switched to painting on canvas and then it was no longer the alias FENX who expressed himself because I changed the medium: it was no longer painting outside, it was painting inside". It was Loic Le Floch who expressed himself, the visual artist and not the graffiti artist anymore. And no longer an Alias who wanted to make himself known.
As FENX explains it to us, he is a visual artist, trained as an autodidact and a multi-tasker, who is interested in several mediums, painting of course, but also sculpture, video, and he has realized an important part of photographic work, 160 000 photos that he would like to show one day.
The artist's solo exhibition dedicated to Playboy covers with the Flat Painting technique
The fashion pictures are incredible, it's a shame they are not more exposed
FENX has just had a solo exhibition at the Cohle Gallery in Pigalle, a Parisian gallery specializing in urban and contemporary art. This exhibition is a brand new project for the artist who has embarked on a new smaller format to illustrate in his recognizable style the most iconic covers of Playboy magazines.
"I think it's amazing the work that goes into Fashion photos, and I think it's a pity to only use these photos once to illustrate one magazine. I appreciate the emotion that photographers can bring to a shoot. I had the idea to do this project with Playboy covers to acknowledge this work, Playboy is one of those magazines that manage to work their front page. A Playboy of the 80's is very interesting to leaf through, to see how the advertisements were made or the drawings that were done by hand. "
As a child of La Defense, I would love to be part of the artistic journey of the 70 works of La Defense

Loic Le Floch aka FENX
Every year there is a street art event at La Defense. "I've never been there but I would love to be invited. This neighborhood is especially meaningful to me because I'm a kid from there."
Not everyone knows it, but there are major works on display in the open air at La Defense, including a monumental sculpture by Joan Mirò. "I would also love to have one of my works be part of this tour. I made a sculpture of a female boxer that I would see perfectly integrated into this urban heritage, whether in La Defense or in La Garennes Colombes where I have my studio today." FENX adds that this sculpture could even be skated by young people, to combine with his other passion.
Before there was Porte de Versailles, the shows were held at the Cnit. Kids from the neighborhood would go there and try to get in to get goodies. "And if you did graffiti, you knew that at La Defense your drawings would be seen." FENX shares his childhood memories to evoke this neighborhood that he has never left, even today as an artist since he established his studio there.
This Defense "speaks to me a lot. I like the fact today that the towers that were aging are being rehabilitated. La Défense is taking on a super nice look again."
Being a graffiti artist is also a discovery part…
"When you are a graffiti artist, there is a discovery part too, you go under the slab of La Defense because you want to discover. You feel adrenaline because you go in places that are normally forbidden to the public or that are difficult to access. Sometimes it's creepy wet, there are dim lights, it's very interesting. You walk in the tunnels of the train, the RER, the subway. You'll see the signatures of those who have gone before you and found the same entrance". There are many unused subterrains in La Défense, linked to unrealized projects, which have left empty spaces where young people meet in teams to paint.
Today the younger graffiti artists are happy to share these new places and to show them to the older ones.
Graffiti in team is above all about the pleasure of meeting people and to experience the social mix
These are the groups that help you to build yourself around a passion, even if we are different we gather around passions

Loic Le Floch aka FENX
"What was interesting when I started graffiti was the people I met. You get to hang out with kids from all backgrounds, that's what I really liked because it teaches you about the Society actually. "
When you join a team you are young, you are 11, 12 or 13 years old. You start to be interested in drawing, in music, but at that age you are not yet a graffiti artist, musician or tattoo artist. That comes later. On the other hand it's an age where you meet people. This side of the band helps you to form yourself and to find your identity. There are also like rites of passage, which is what young people lack today. This is also what I wanted to represent with my paintings of Playboy magazines, a symbol for me of the passage between the teenage age and the adult age".
From graffiti to canvas : FENX the graffiti artist becomes the artist
I don't know if it puts you implicitly on an artist's path when you do Graf. Graffiti, there is not only the artistic dimension, there is the will to be seen.
"For me there is no such thing as a gateway. It's not because you do graffiti that the trick is to go to a gallery. There are many muralists who express themselves on this medium and who have no desire to go to a gallery. After, for Basquiat it's a little different, he was interested in graffiti of course but we can't talk about a street artist who went to a gallery. But he was in the street to attract the attention of the galleries, to tell them "Attention I exist".
"I like every Graf on the street. There is no good or bad Graf. Today I'm mostly interested in tags or throw-ups (intermediate between tag and Graf), signatures more than graffiti. Today the cleaning of the walls is less important than before, there is a lot of it."
There is no connoisseur's eye on the graffiti. Everyone looks with his personality. It's a universe based on ego Trip, each one has his opinion and his personality.
On the other hand, the style is very important, whether in graffiti or in painting.
The After8 Book project at the time of the Versailles trial
Loic Le Floch is very interested in graffiti, he participated in the writing of a book called After Eight, which was written at the time of the trial in Versailles. This trial is the one that opposed the RATP and the SNCF to 56 graffiti artists who painted illegally on the metal sheets of the trains. "There was a ban on showing graffiti on trains. In fact there were severe individual penalties but never a trial in the end. I was in charge of a big part of collecting drawings for a book project and layout, in contact with more than 300 people who gave their drawings to be included. A big project with some unpleasant memories related to that ego-trip aspect of graffiti, but with the satisfaction of having seen it through to the end."
The exhibition project on Graffiti Art at the Grand Palais
With Alain Dominique Gallizia, we brought the Street Art paintings to the Grand Palais in 2009
Following this After Eight project, Loic Le Floch met an architect named Alain Dominique Gallizia. In 2009 he had started a collection of Graffiti and proposed to Loic to participate in a new project for an exhibition this time, following the release of the book After 8, in which a lot of artists from all countries were exhibited at the Grand Palais." At the time few people were talking about graffiti and many artists were also struggling. The kids at the time loved it, the tickets were very accessible, and they felt very close to the works that they could have seen in their neighborhood as well. This allowed them to apprehend art in a regressive way, before moving on to something more difficult to access like contemporary art."
The Style of Loic Le Floch aka FENX, graffiti and visual artist
Flat painting is a very clean flat painting
What technically characterizes the style of FENX today is the Flat Painting with flats made in an extremely clean way where you can hardly see any delimitation. "Then there is the use of colors that have strength. Part of his work is oriented on the Lifestyle as a testimony of an era, for example the canvas displayed today in his studio which includes contemporary characters strolling by a pool in LA. Sometimes as a nose-thumbing at society's taboos, such as female nudity or the use of cigarettes. "For me it is not necessary to rewrite history but rather to represent the times and the society as they were. And my painting represents that."
What you can learn in this podcast:
4'54 The work of FENX on canvas
8′ The choice of the name FENX, graffiti artist
12'3 The exhibition on the covers of Playboy magazines at the Cohle Gallery in Pigalle
15'40 Memories of the La Defense district
22′ Discovering La Defense differently : The artistic journey of the works of La Defense with 56 artists
25'40 – 35′ : Graffiti Art ; Being a graffiti artist in a team at La Defense, a human adventure
35′ : How does one go from graffiti to art galleries? There is no direct bridge …
40′ : The project of the book After eight at the time of the "Versailles trial
43′ : The exhibition project on Street Art at the Grand Palais with Alain Dominique Gallizia
50′ What characterizes the style of FENX, graffiti artist and visual artist
FENX's recommendations : Fusi's podcast, Podcast l'Heure Bleue by Laure Adler
Don't miss the end of the episode (1h) because FENX gives you a lot of advice on how to become an artist, how to get started and how to start as an autodidact. And also how to finance your projects.
Contacts
If you liked this article with FENX, graffiti artist, you will certainly like the interview with the two founders of the Cohle Gallery in Paris, specialized in urban and contemporary art.
It's now time to listen to Loic Le Floch aka FENX's podcast! I hope you find his journey inspiring, tell us in comments on Apple Podcasts!
If you liked this podcast, don't hesitate to leave 5 stars on iTunes to support 2Goodmedia, the podcast in 3 languages (English, French, Italian) that gives voice to creatives and entrepreneurs.
You can contact Loic Le Floch via his Instagram site @FENX1974 or on the website of Cohle Gallery where he has solo exhibitions.
Subscribe to 2goodmedia on your favorite podcast platform to keep up with our episodes and discover new talents in Art and Fashion in France and Italy.
I'm Delphine, creator of 2goodmedia, find me on Instagram @2goodmedia to learn more about my projects and reports with creative entrepreneurs: designers, creative agencies, artists who explain their journey, share their experience, their creative process and their entrepreneurial project.
This episode is in : FRENCH. The interview is always in the guest's native language to better capture the intent of those who shape the Art and Fashion industry.
2goodmedia, the coolest click of the web in audio and images! We talk about Art, Fashion in France and Italy. 2goodmedia's mission is to create a link between generations, cultures and countries without filters and with an inclusive vision of society.
We transmit our values and our passion for Art and Fashion, because passion unites us!
If you have any comments, questions or ideas for interviews, please feel free to contact me by email at: Delphine@2goodmedia.com
Credits : Photos et oeuvres de FENX, Courtesy of Loic Le Floch aka FENX, all rights reserved ; Article and Podcast by 2Goodmedia, all rights reserved.