Bav Tailor has defined the concept of Conscious Luxury and applied it to her namesake Sustainable Label : BAV TAILOR. You will learn a lot about Sustainability in the Luxury Fashion Industry with this Podcast conversation with Bav Tailor registered Live at the Rome Fashion Week 2020.
September, 25th 2020 | Rome, Italy
By Delphine Souquet
#22 Bav Tailor– BAV TAILOR – All you need to know about Conscious Luxury and the importance of Sustainability in Fashion
My guest on the Podcast today is someone very Special, Bav Tailor, one of the most inspiring personality I have ever met during my Fashion Weeks reportages for the podcast in Italy. We are sharing on 2Goodmedia the same vision about the Future of Society and the importance of Sustainability in Fashion.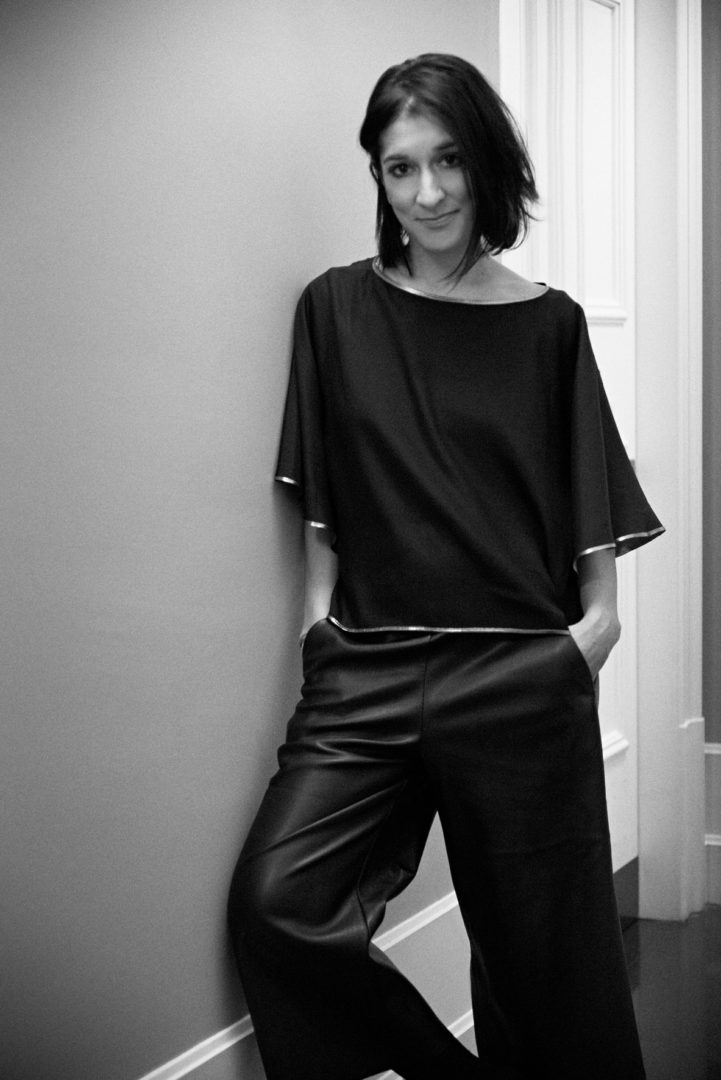 Who is Bav Tailor ?
Bav is a Young English Designer born in London who has defined a new important concept of sustainable Fashion : Conscious Luxury.
It is not a time for criticizing. The importance in Sustainability is that everyone starts

Bav Tailor
A family tradition of Luxury Craftsmanship in India
Bav Tailor is a Young English Designer born in London, Indian by origin with a long family tradition of Luxury Craftsmanship inherited from her Grandfathers in India. A story so inspiring but it would be a limitation to stop there to explain who Bav Tailor is and where her inspiration comes from. Indeed, my feeling is that her origins is only the beginning of the story of Who Bav Tailor is, a starting point, as she has committed to work in Fashion after her Grandfathers to rise the challenges of Sustainability.
What is Conscious Luxury Sustainable ?
Conscious Luxury is a commitment to Sustainable Fashion and the highest respect for the environment or the people working in the Fashion industry. For Bav Tailor this is an unconditional commitment guiding the strategy for her brand and which is translated in the way she runs her business.
The Label Bav Tailor
The Brand was founded in London back in 2015, and the production is Made in Italy, with the sourcing of sustainable fabrics from around the globe, for this Nomad spirit as Bav likes defining herself.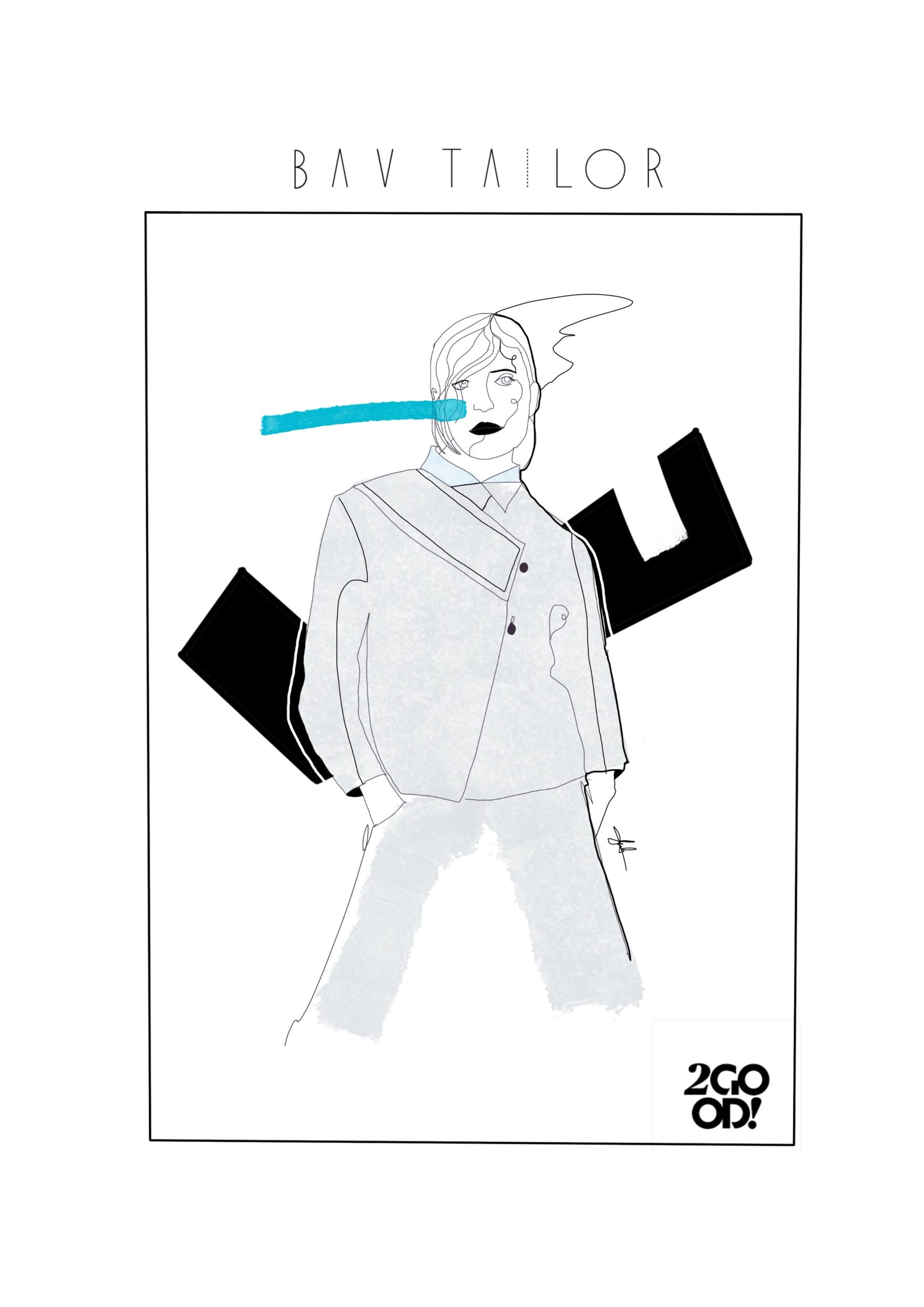 Bav Tailor has defined a new important concept of sustainable Fashion : Conscious Luxury. A concept reflected in her personality as you will hear in the Podcast and transposed in her young promising sustainable Label BAV TAILOR.
Bav Tailor ANANTA prana mantra shirt organza

BAV TAILOR coat-mohair

BAV TAiLOR SS21-Kushmanda SHANTI YOGA

BAV TAiLOR SS21-Kushmanda biker cork trousers

Bav Tailor SS21 Kushmanda Jumpsuit
Brand values
BAV TAILOR proposes a collective fusion of non-conformist clothing of generationless silhouettes and effortless geometrical volumes inspired by design, architecture and Eastern philosophies and wellness certified natural or recycled materials that represent true hallmarks of authentic100% Made in Italy through a '360° sustainability manifesto' which endeavours to support the 'United Nations Sustainable Development Goals'.
The pieces of the collection are Timeless and available on client order whatever the season or the collection.
Sustainable and quality certifications
The collections of BAV TAiLOR, following the mantra 'respect your body + your sphere', are a hymn to the beauty of the world, exhort to show love for space, mind and body. This philosophy is demonstrated by the use of materials certified for sustainability and quality from suppliers according to the following categories: ISO 9001 / Seri.co / Traceability & fashion / GOTS / EU Ecolabel / ICEA / Fiducia Nel tessile / CAN / Color system project / Global recycle standards / Oeko-tex / FSC/Wastemark.
Innovative sustainable materials and fabrics
Qoperfina® Copper, combining the finest combed organic cotton with pure and natural Angelina copper staple fibre
MARM/MORE, derived from Italian marble stone waste
Q-NOVA®, an environmentally-sustainable nylon blend fabric for the Shanti Yoga pieces
TENCEL™ Modal extracted from naturally grown beech wood by an environmentally responsible integrated pulp-to-fibre process
Eco-green certified Biellese naturally dyed linen/cotton blend
TAOMODA special Eco-Luxury award 2020
BAV TAILOR is an emerging Sustainable Label already successful with a number of recognitions. Last week Bav Tailor was awarded the special Eco-Luxury award of TAOMODA 2020 during the Taormina (Sicily) Fashion Week for the project #Togetherfortomorrow with Camera Moda Fashion Trust.
A Young Luxury Label noticed by the Media and Trends Agencies like WGSN during the Covid period for her conscious Fashion.
What you will learn from this Podcast ?
I particularly enjoyed listening to Bav Tailor tell me about her vision and accomplishments for her sustainable label. I also learnt a lot about Sustainability, the sourcing of fabrics, and the initiatives and platforms available in the UK, in advance on those topics. This is not surprisingly that Bav Tailor was chosen the same morning to talk Live at Altaroma and testify about Sustainability in the Fashion Industry.
In this podcast, you will learn from BAV TAILOR about her accomplishments in Sustainable Fashion and about her entrepreneurial experience :
The story of her label and inspirations, her philosophy of Conscious Fashion
The large variety of sustainable, recycled Fabrics she is sourcing for her collections
Her relations to the Suppliers and how she built it
The UK platforms for supporting Sustainable Fashion Brands : BAV TAiLOR is a member of Positive Fashion and the Institute of Positive Fashion on the initiative of the British Fashion Council, a platform designed to celebrate industry best practice and encourage future business decisions to create positive change setting industry standards on 3 Pillars :

SUSTAINABILITY
EQUALITY & DIVERSITY
CRAFTSMANSHIP & COMMUNITY

Bav Tailor is awarded with the Butterfly Mark for a company-wide commitment to sustainability, and [CO Leader 2019] at Common Objective, a sustainability platform for the entire fashion industry to do business better for a better world, including Orsola De Castro from Fashion Revolution as a Founding Member ; both are UK global platforms for sustainable fashion
The state of the Fashion industry regarding sustainability : Fast Fashion, Emerging brands, Established Fashion Brands
Her new Yoga collection called Shanti
Her collaboration with an agency with a platform on Storytelling
Bav Tailor is a conscious and shining person, a spiritual soul involved in Sustainable Fashion to create Poetry through her timeless collections : "I decided to remain in the Fashion Industry but to change it. It is not a time for criticizing. The importance in Sustainability is that everyone starts" as she explains in our Podcast conversation.
Bav Tailor SS21 Collection at ALTAROMA
ALTAROMA is the largest event in Italy dedicated to emerging Fashion designers, Italian or international, associated to the MADE IN ITALY. The 2 main projects of ALTAROMA are Showcase, to present the Emerging Designers latest collections to the Media and Buyers, and Who's on Next? co-organized between ALTAROMA and VOGUE ITALIA. BAV TAILOR was finalist last year of the context Who's on Next 2019.
This is a Special Podcast registered Live during ALTAROMA, the Rome Fashion Week. The Showcase, a presentation organized after the runway, is the best moment to have a conversation with emerging designers. They show their collections Made in Italy to the Media and buyers.
Now it's time to listen the direct Voice of Bav Tailor in the Podcast. I hope you will be inspired and find it useful for your sustainable business. Let us know in comments!!
Contacts
You can contact Bav Tailor on her website https://www.bavtailor.com/about-bav-tailor/ and subscribe to her Special Newsletter or directly on :
Instagram : @bavtailor , Facebook, LinkedIn
A complimentary gift for your loyalty!
As a token of appreciation for your loyalty, 2GoodMedia partners with WhatRocks to offer complimentary crypto for you to donate to your charities of choice from the list of 200+ organizations across the world.
Already a WhatRocks member?
Scan (or click from your mobile) the QR code below to collect your crypto rewards for good.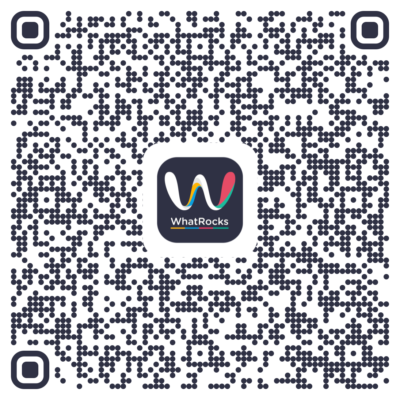 Not a WhatRocks member yet?
Click here to open your free WhatRocks account
I am Delphine Souquet, the Founder of 2Goodmedia, visit me on https://2goodmedia.com and Instagram @2goodmediato know more about all my projects and reportages with Creative entrepreneurs : Designers, Artists and Architects talking about their creative process and running a successful business.
Language : ENGLISH. The interview is always in the original language of the interviewee to hear the direct voice of people that shape the Art and Fashion industry today.
Credits : Lookbook Photographies Courtesy of BAV TAILOR all rights reserved; Illustrations by Gabriele Melodia ; Podcast and editorial Copyright 2GoodMedia
2Goodmedia, https://2goodmedia.com the coolest click on the web. We produce cool contents (photos, videos and podcasts) for a pure entertainment experience. We talk about Fashion, Art, People, cool events in France and Italy. The mission of 2Goodmedia is to create a link between generations, cultures, countries, social classes without filters and with an inclusive vision of society. Transmit the values and passion for fashion or art. Passions that bring us together!
For comments, questions, or speaker ideas, please e-mail me at : Delphine@2goodmedia.com