I meet Stefano Dassù and Pasquale Amoroso in a small Milanese Caffè in the heart of the Fashion and Design District in Milan : Bar Davinia via Tortona, just before the presentation of their collection "BACK TO MOON" during the Milan Fashion Week (Follow them on Instagram @DassuYAmoroso and see their collection A/W 20/21 Via Tortona, 33 Milan, Ares Tower 5th floor, from 19th to 22nd February in collaboration with the Fashion Hub "Here for designers").
The Duo of Italian designers created the label DassùYAmoroso back in 2015 as an act of Freedom. In this podcast, we talk about the fierce identity of their label and their unconditional search for self expression through Fashion : always daring and fearless.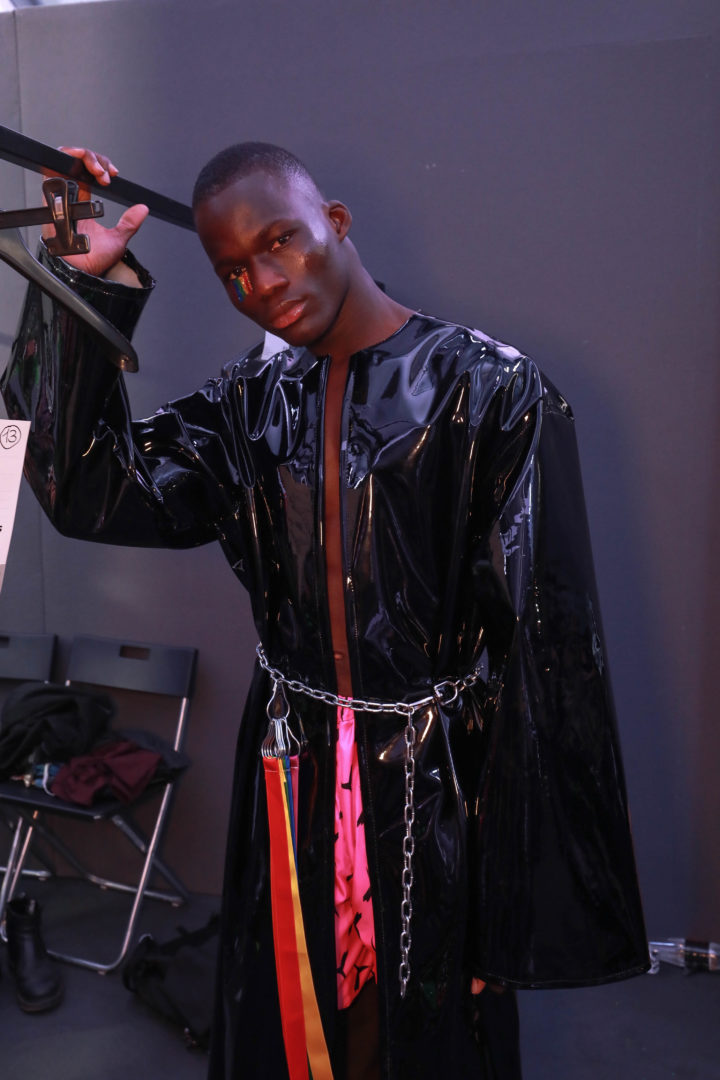 "The choice of Davide for the casting of our show in Rome was obvious to us. At 11pm we called him back to ask him to go on the catwalk the day after even if he was not initially appointed during the casting process. We felt his disappointment and will to be with us for this special day of our Debut show, this was crucial to us. We like it when people are not only doing their job but enjoy sharing an experience together". Dassùyamoroso
I first met the two designers in Rome during the Fashion Week presenting their latest collection on the Catwalk of Altaroma. What a shock for the Roman public more educated to classic style and couture! But how good it sounded to renew the proposal of emerging designers in Fashion!! Doing also echo to the evolution of our Society : more inclusion, self-expression, sustainable development…
Pasquale and Stefano are the sweetest persons and the most rational minds in the world. In Fashion, it's always surprising to discover the face behind a label, all the most surprising when this label is a Punk label inspired by Trap music and creating Genderfluid clothes.
And developing a Punk label in Italy is obviously not as easy as doing it in downtown New York.
We will talk about the typical hot topics for an emerging Fashion label :
– Brand identity and Brand awareness, a work still in progress for a young emerging label.
– Fashion shows and presentations.
– Collaborations and partnerships, indispensable to grow, like the collaboration with the Fashion Hub "Here for designers in Milan", or with Humana vintage for a capsule collection.
– Collections and research on new materials, sustainability, vintage, upcycling and recycling…
I enjoyed a lot discussing with Stefano and Pasquale about their vision of the Fashion industry, about the identity of their brand, about their personal story and projects. I hope you will enjoy listening to our conversation and hear the direct voice of the People that shape the Italian Fashion industry today. 👍 Don't forget to give "5 stars" on iTunes to sustain this Podcast, it helps me a lot!!
Language : Italian. The interview is always in the original language of the interviewee to hear the direct voice of people that shape the Art and Fashion industry today.
If you like this article and podcast, follow 2goodmedia on Itunes and put a 5 star reward ⭐️ to sustain the channel podcast.
2Goodmedia, https://2goodmedia.com the coolest click on the web. We produce cool contents (photos, videos and podcasts) for a pure entertainment experience. We talk about Fashion, Art, People, cool events. We are driven by Passion regardless of time, age, ethnicity, geography, etc.
Credits | Brand : DassùYamoroso | Media : 2Goodmedia , photography : Mijean Rochus
For comments, questions, or speaker ideas, please e-mail: Delphine@2goodmedia.com